Many people ask this question, Is City Islamabad App Real or Fake? City Islamabad Mobile Application is an official Mobile Application by Islamabad Capital Territory Administration. This App is created for Islamabad Citizens to give them digital services like Online Car Registration, Token Tax, etc. And Make their life easier. City Islamabad App was an amazing initiative that is creating a vast impact on the life of Islamabad citizens Now people can avail of multiple services by sitting in their homes, rather than going outside and bare traffic and parking issues. In this article, I will share How to create your account on City Islamabad App, and I will give complete details about its services.
How to Create an Account on City Islamabad App?
Creating an account on City Islamabad Mobile Application is very user-friendly. You can create your account by following these easy steps.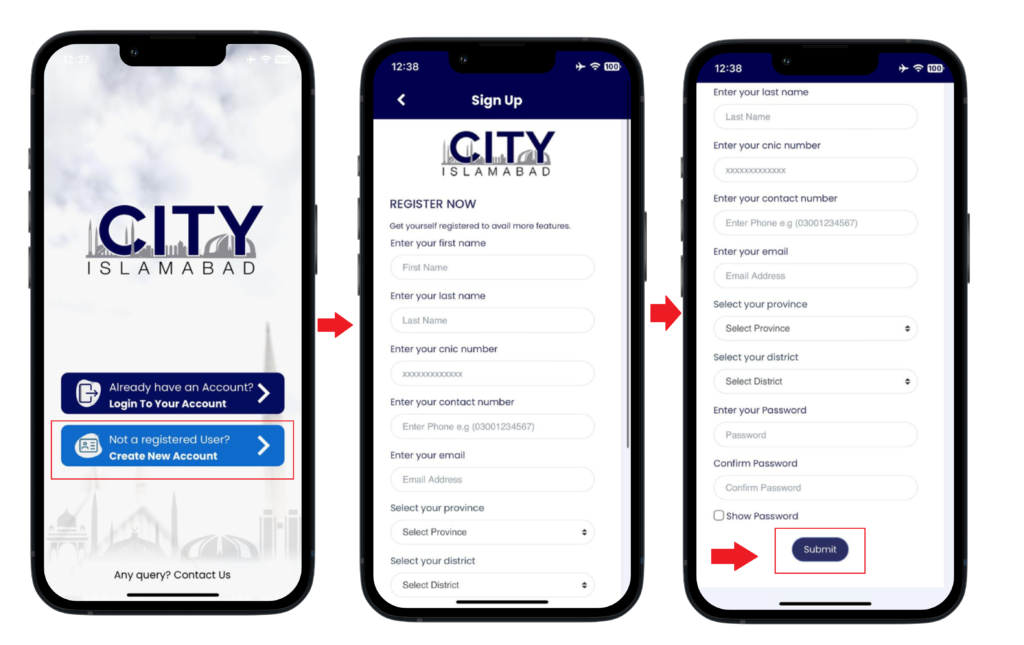 Aftering Installing City Islamabad Mobile Application from Google Play Store or iPhone App Store, when you will open the app you will see two options. The first option is Login, if you already have an account on City Islamabad App, you can click on the Login option and login in by providing your details.
But If you don't have an account, you can create an account by clicking on Create New Account Option. After clicking on creating new account option you have to provide some basic information, including You Name, CNIC, Phone Number, Email, etc. After Proving all the information click on Submit Button and by clicking on Submit button your account will be created.
Services Offered by App
Right now City Islamabad App has 7 Sections with 44 Services. While Islamabad Capital Territory Administration is trying its best to add more services. Here is the list of the Services Offered by the City Islamabad App.
E-Police Services
Excise and Taxation Sevices
Capital Development Authority Services
City Guide
Islamabad Alerts and Notifications
Emergency Numbers of Islamabad
Online Services to get Domicile Certificate, International Driving Permit, etc
I hope you got your answer, Is City Islamabad app real or fake? Of course, City Islamabad App is an authentic app managed by Islamabad Capital Territory Administration.
Also Read: What is the role of the Pakistan Citizen Portal App?