As we know English is the most spoken language worldwide. English is an International language, and many people want to learn English all over the world due to different reasons. Some people want to learn English for their further studies, some want to find better job opportunities worldwide, and some people want to learn English because of their passion or for travel purposes, etc. Everyone has a different reason, but everyone has the same question How can I practice speaking English? There are many common ways to improve your English like Reading English newspapers or Books, Watching English Movies with subtitles, Practicing English in front of a mirror, etc. But I am going to share a very interesting and unique way to improve your English with the help of the Free Smartphone Application.
How can I practice speaking English? Here is the Solution:
One of the best ways to practice English speaking is to talk with different people in English. Do you want to practice your English speaking skills by talking with different people worldwide? Yes, it's possible with Hallo Mobile App. Hallo Mobile App helps you to learn English in 3 Ways. You Can talk to any Random Person worldwide with the help of InstaMatch Feature, You can Talk to their A. I (Artificial Intelligence) bot on any topic with their InstaAI feature. Or you can take live English lessons from different English Instructors from all over the world. But to take English Classes from Instructors, you need their monthly or yearly subscription. While InstaAI and InstaMatch Options are absolutely Free.
How to Create an Account on Hallo Mobile App?
Creating an Account on Hallo App is very Easy and Simple. I am going to explain step-by-step How to Create an account on Hallo App. First of All Install Hallo App on Your Smartphone, available on both Android Play Store and iPhone App Store. After Installing Hallo App on your Mobile Phone, when you will open it you will see two options first.
Get Started and Log in Option. If you already Have an Account on Hallo App, you can log in directly from Login Option. But If you don't have an account to can Click on Get Started Option. By clicking on the GetStarted button you have four options to create your account including Signup with your Apple Id, Facebook, Gmail, or Email. You can select one of them as per your convenience.
Aftering Selectin your Signup Option you have to provide some basic information, including Profile Picture, Full Name, Country, and your Native Language. You Can also Verify your Location by clicking on Verify Location option as shown in the above image. After Providing your information click on the Continue button and your account will be created successfully.
How to Use Hallo App InstaMatch Feature
Insta Match is Really Amazing Feature offered by Hallo. In this Feature, you can talk with any random person All Over the world. You can Polish your English Speaking Skills by taking in English with Random People on any topic according to your Intrest. For Example, you can talk about their Culture, Business opportunities, hobbies, etc. You can access InstaMatch Feature by following these easy steps.

First of all Open Your Hallo App, Select InstaMatch Option, and Click on Start InstaMatch. By Clicking on Start InstaMatch Option you will see two further options, first one is Filter Option, By Clicking on the filter option you can apply different filters for people you want to talk as shown in the above image. But If you don't want to apply any filter you can again click on Start InstaMatch Button, and you will see Different people who are available for a Call. If you want to talk with any person click on Accept Button, and if want to skip that person click on the Skip option. Once you will click on Accept button, your call will be started with that particular person.
How to Use Hallo App InstaAI Feature
Hallo App Insta AI Feature helps you to improve your English speaking by Talking with A. I (Artificial Intelligence) Bot. As We Know A. I Industry is growing continuously. There are many useful A. I applications and now Snap Chat and Hallo App also Introduced their A. I Bots. Hallo App A. I bot will talk to you on Any topic of your choice, you can Ask Any Question, and the bot will answer you in both Audio and Written form.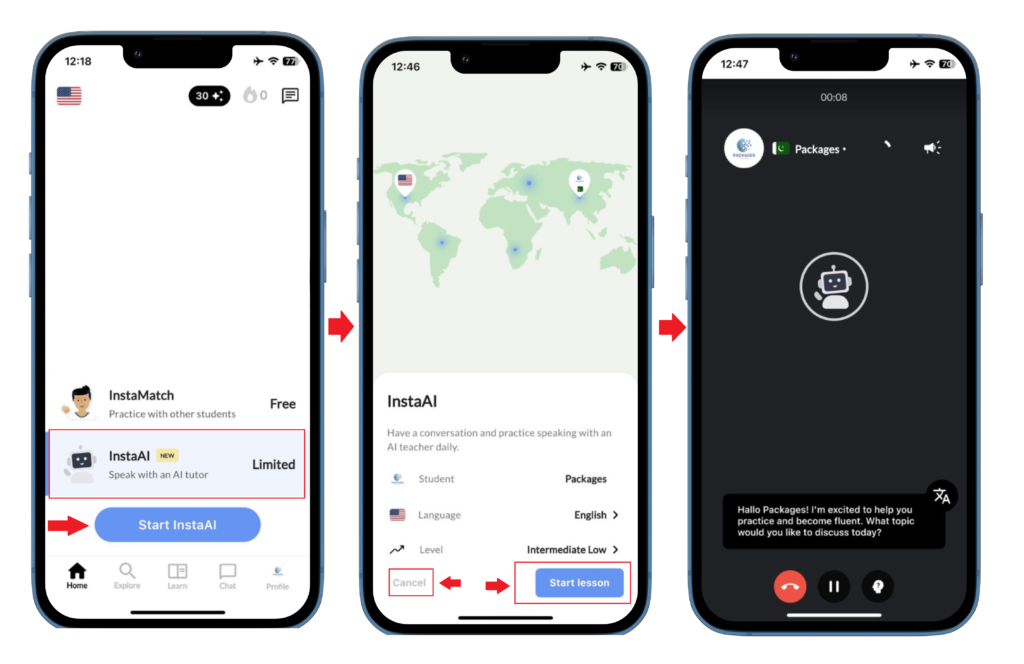 If you Want to Access Hallo App, InstaAI feature, open Hallo App and select InstaAI Option and Click on Start InstaAI Button. After Clicking on Start InstaAI Button, it will give you two more options, Cancel and Start Lesson. If you want to Cancel click on Cancel Button, but if you want to continue and talk with the bot click on Start Lesson. After Clicking on Start Lesson, you can easily talk with a bot on any topic according to your interest as shown in the above image.
Also Check: What is PTCL Flash Fiber?