In the Last some years, the Government of Pakistan is trying its best to make life easier for its citizens with the help of technology. The government of Pakistan has already taken serious initiatives in this regard. From applying for a CNIC and Driving license, Car Transfer, Token Tax, Traffic Challan Payment, Income Tax Return Filing, and Complain Registration of any Government Department, to Information on Healthcare and medicines available in Pakistan, everything is now digitalized. Now People Don't need to go outside and bare the long queue inside the government offices. By Digitaling Government departments, people can now avail of their services using smartphones. Pakistan Citizen Portal App is also one of the major initiatives of the Government of Pakistan. So Today I will Explain What is the role of Pakistan citizen portal App?
What is the role of Pakistan Citizen Portal App?
There was a time when it was almost impossible to register any complaints, suggestions, or feedback against any Government Department for a common citizen. But With the Help of Technology government of Pakistan is creating a bridge between government Departments and its citizens. Now Every Inland Pakistani Citizen, Overseas Pakistani, or even Foreigner is able to provide suggestions, and feedback or easily register their complaint against any department with the help of the Pakistan Citizen Portal App.
Government Departments in Citizen Portal App:
| | |
| --- | --- |
| Sr No. | Department |
| 1 | Human Rights Department |
| 2 | Revenue Department |
| 3 | Education Department |
| 4 | Municipal Services Department |
| 5 | Healthcare Department |
| 6 | Law and Order Department |
| 7 | Energy and Power Department |
| 8 | NADRA |
| 9 | Media |
| 10 | Immigration & Passport |
| 11 | Transportation Department |
How to Create an Account on Citizen Portal?
Creating an Account on Pakistan Citizen Portal is very Easy. You can create an account by following these steps.
Pakistan Citizen Portal Mobile App is Available on Both Google Play Store and iPhone App Store. You Can search Pakistan Citizen Portal App on your Play Store or App Store and Install it on your Smart Phone.
Follow These Easy Steps:
After Installing the App, When you will Open the Pakistan Citizen Portal app first of all you will see the GetStarted option.
After Clicking on Get Started, You will Find two Options Sign Up and Sign In.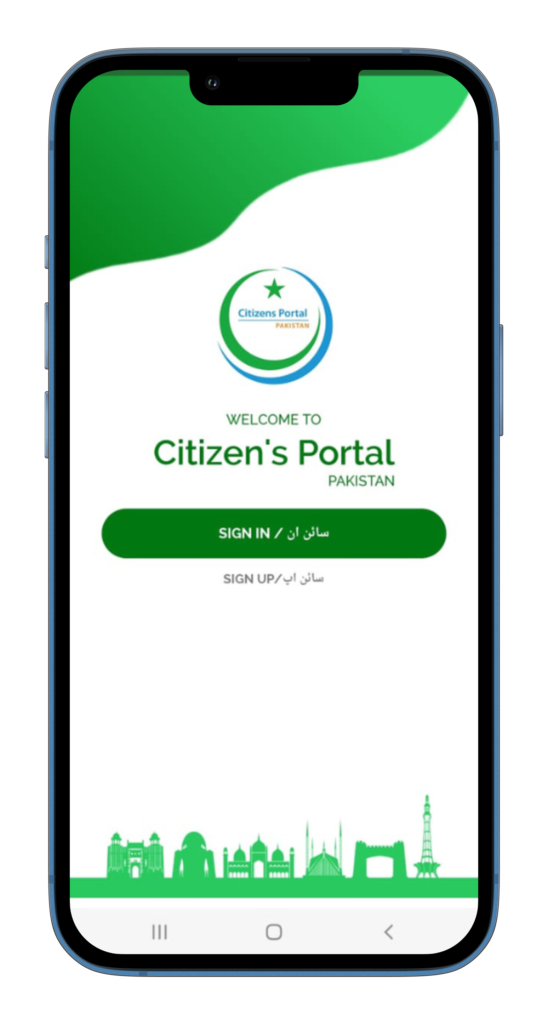 If you already have an account on Citizen Portoral then you can click on the Sign In Option and Longin by providing your login information. But If you are a new user and want to create your account, then click on the Sign-Up Option.
By Clicking on Signup Button, you have 3 Options for signing up. You can Sign up as an inland Pakistan Citizen, Overseas Pakistan, or Foreigner. For example, if you sign up as an inland Pakistan Citizen, you can Click on Inland Citizen Option. There are further 3 Steps to Sign-up as an Inland Citizen.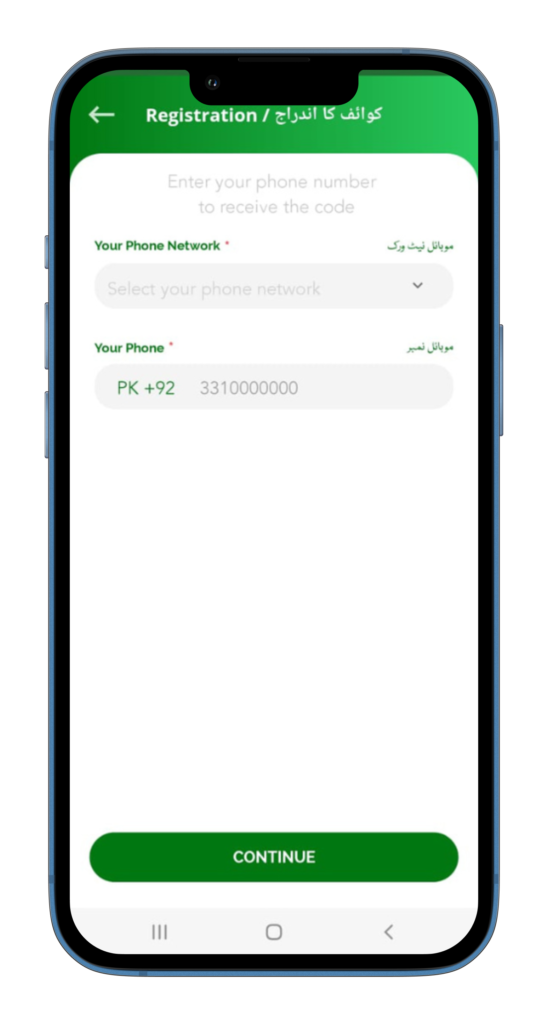 In the first step, Select your Mobile Network Operator (i.e. Ufone, Jazz, etc) and Enter your Mobile Number.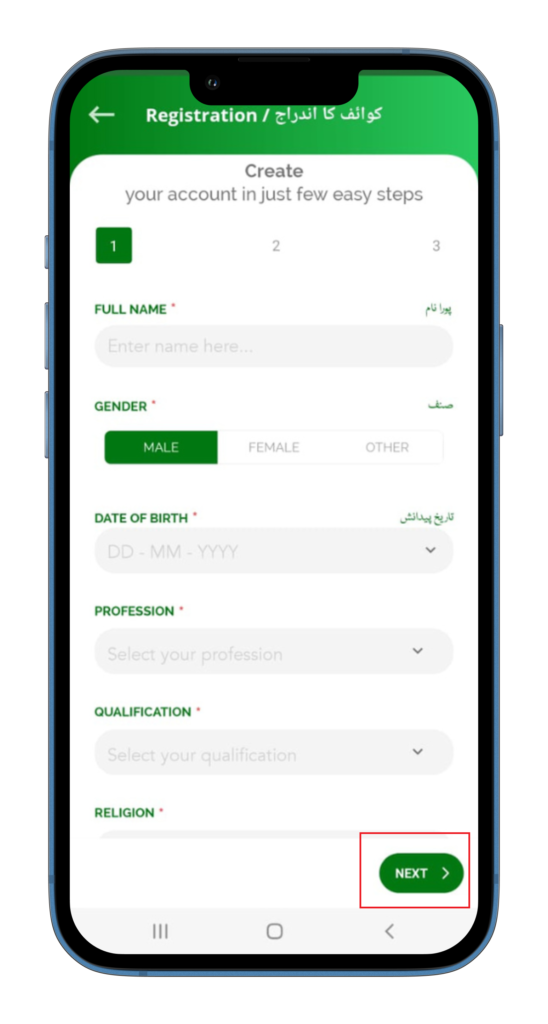 In The Next Step, you have you provide your Basic Information. Including your full Name, Gender, Date of Birth, Profession, Education, Religion, and Blood Group. After Providing all the Basic Information click on the Next Button.
In this Step, You have to enter your E-mail address and set your Password. And Click on the Next Button.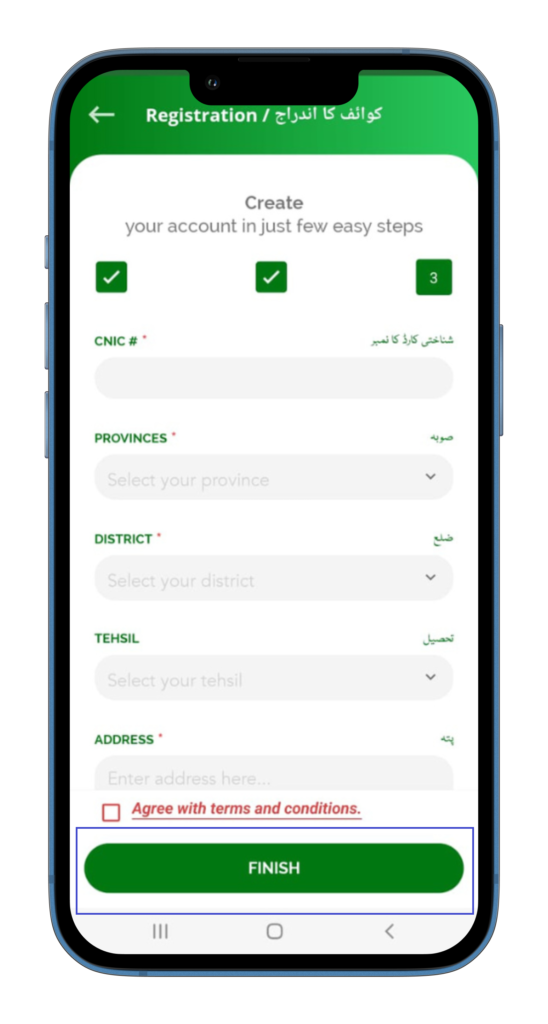 In this final step, you have to provide some more Information. Including Your CNIC Number, Province, District, Tehsil, and address. And Aftering Providing this information Click on Finish Button. After Clicking on the Finish button your Account will be created.
How can I Complain to Citizen Portal Pakistan?
The process of Complaigin Registration on the Pakistan Citizen Portal is very easy and Simple. You have to follow these easy steps to register your Complain.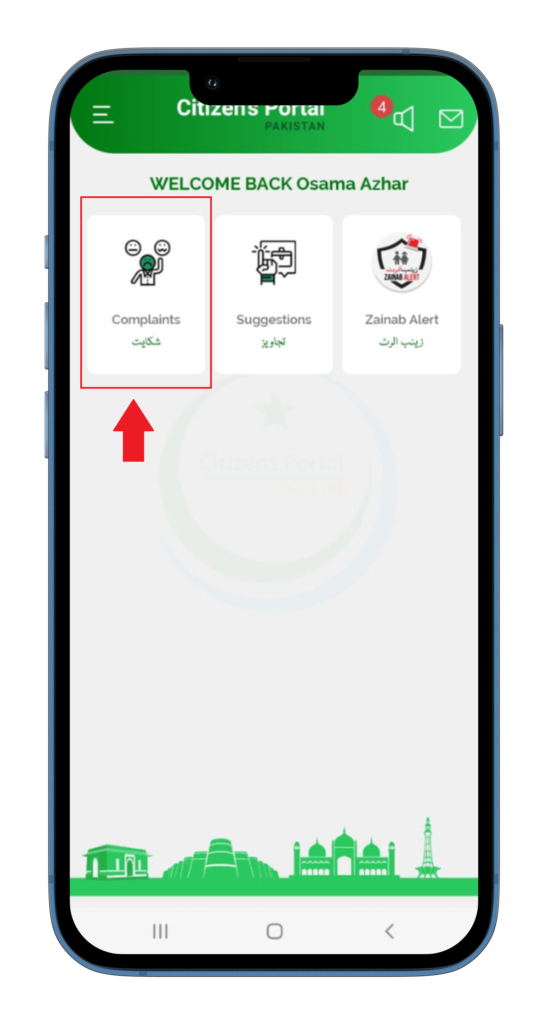 First of All, you have to open Pakistan Citizen Portal App on your Smartphone and Click on the Complaints Option.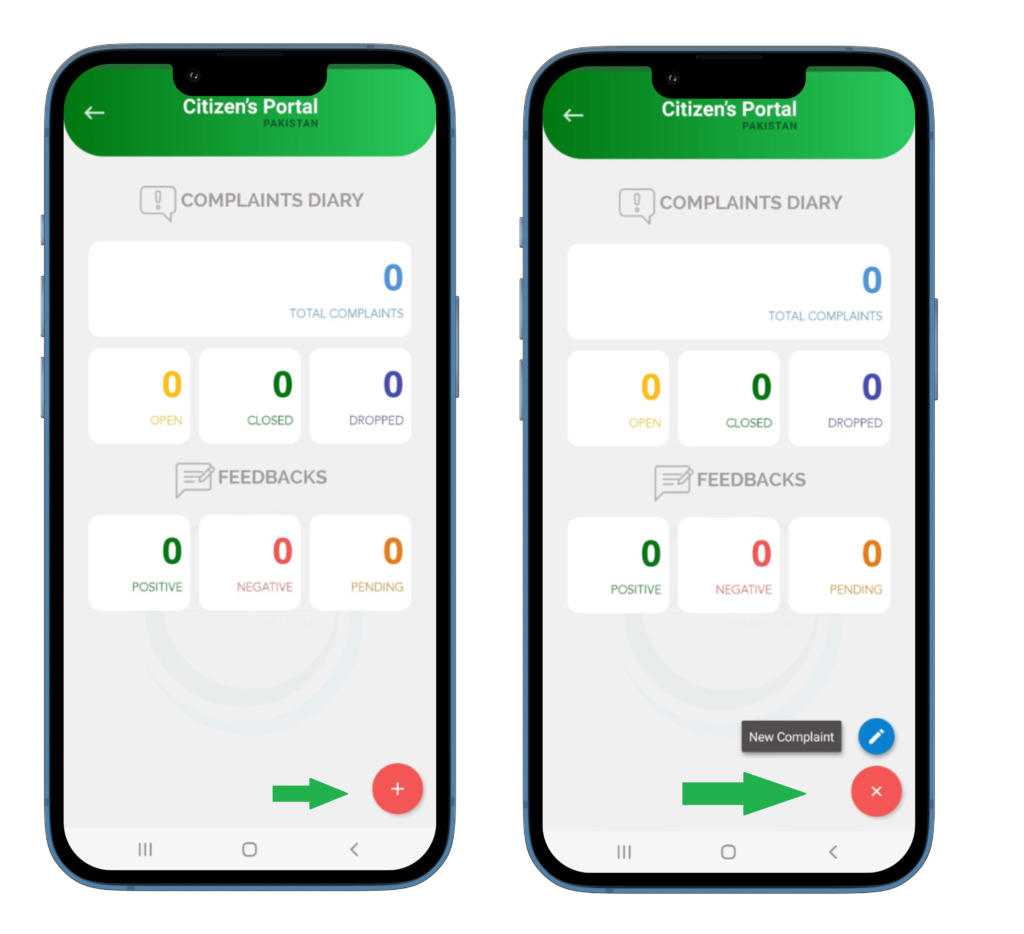 After clicking on the Complaints option, you will see your Total Complaints, and Other options include, Open, Closed, and dropped complaints. To Register a New Complain Click on Plus Icon and the Click on New Complaint option.
After Clicking on the New Complaint option, you have to select a Department, about whom you want to register a Complain. For Example, if you are selecting Health Department, After clicking on Health Department, you have to select a sub-department working under the Main Department.
After the Selection of the Sub-Department, you have to fill in your Complain form and Click on Submit Button. You can also attach some files for reference or proof, etc.