ePay Punjab is an initiative of the Government of Punjab Pakistan to facilitate citizens. But Many people don't know What is the Use of the ePay Punjab Mobile App? ePay Punjab Mobile Application is a one-stop solution to Pay all kinds of Government feeses including Tax fees, Traffic Challan, domicile fees, etc. The main purpose of this Mobile Application was to bring comfort into people's lives and to make Government's formal process more convenient and user-friendly. Read the Complete Article to learn about the Account Creation Process and features of the ePay Punjab Smartphone App.
How to Create an Account on ePay Punjab Mobile App: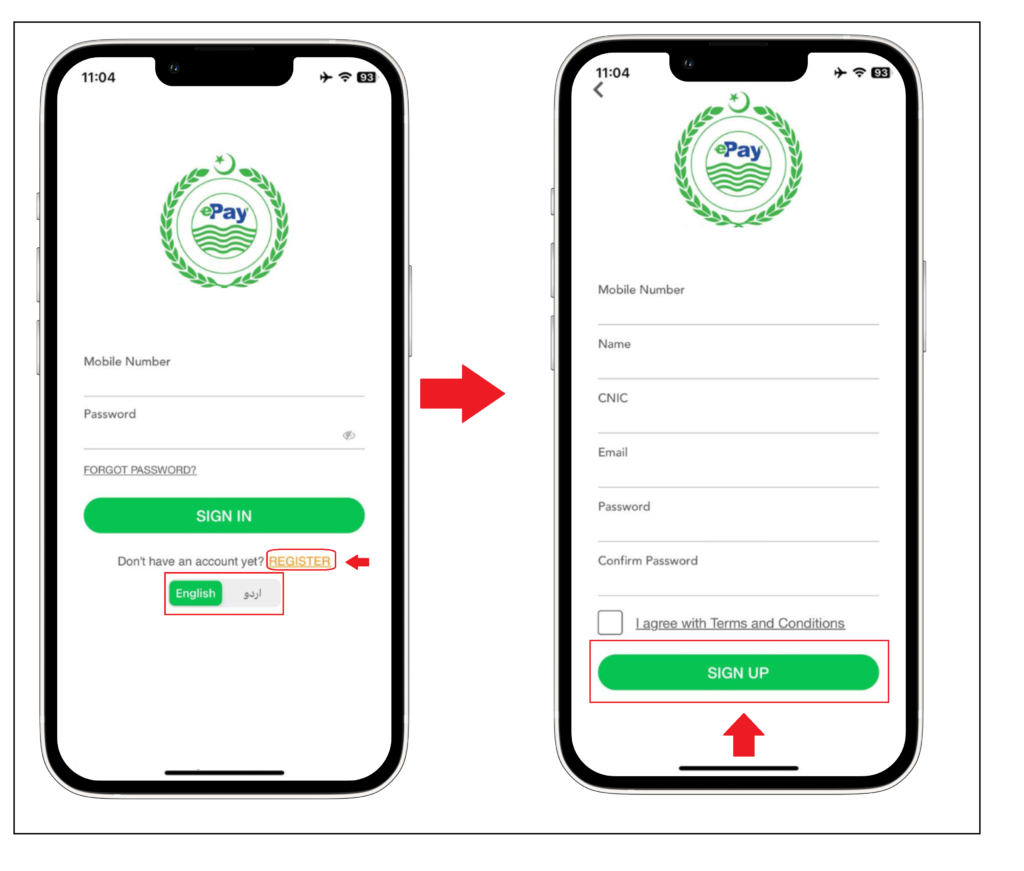 After installing ePay Punjab App Available on App Store for iPhone users and Google Play Store for Android Users, when you will open it you will see two options. The first option is to Sign up if you already have an active Account on ePay Punjab App. But If you are using this App for the first time, click on Register Option to create your Account. While you can also Choose English or Urdu Langue as seen in the above image, according to your convenience.
After clicking on the Register option, Provide your basic information as per the requirements, and click on the Sign-up Option. After clicking on the sign-up option your account will be created.
What are the Services of the ePay Mobile App:
Right now 11 Government departments are attached to ePay Punjab Mobile Application, and each department is providing multiple services. You can select any service according to your requirements and pay a government fee against that service digitally, from your ePay Punjab Mobile Application. Here are the department attached with ePay Mobile App.
Sr No.
Department
Services Offered
1
Excise & Taxation Department
Token Tax
Transfer of Motor Vehicle
Property Tax
Professional Tax
Cotton Fee
Motor Vehicle Registration
eAuction
2
Board of Revenue
Mutation Fee
Fard Fee
E-Stamping
3
Punjab Revenue Authority
Sales Tax Services
Punjab ID Cess
4
Industries Department
Business Registration Fee
Price Magistrate
Weight & Measures
5
School Education
Pepris
Private Collage
6
Punjab Police
Traffic Challan
Sate City E-Challan
7
Domicile
Domicile
8
Transport Department
Route Permit
Fitness Certificate
LTC Route Permit
9
PPSC
PPSC Exam Fee
10
Irrigation Department
eAbiana
eProcurement
11
Labor Department
Worker's Welfare Fund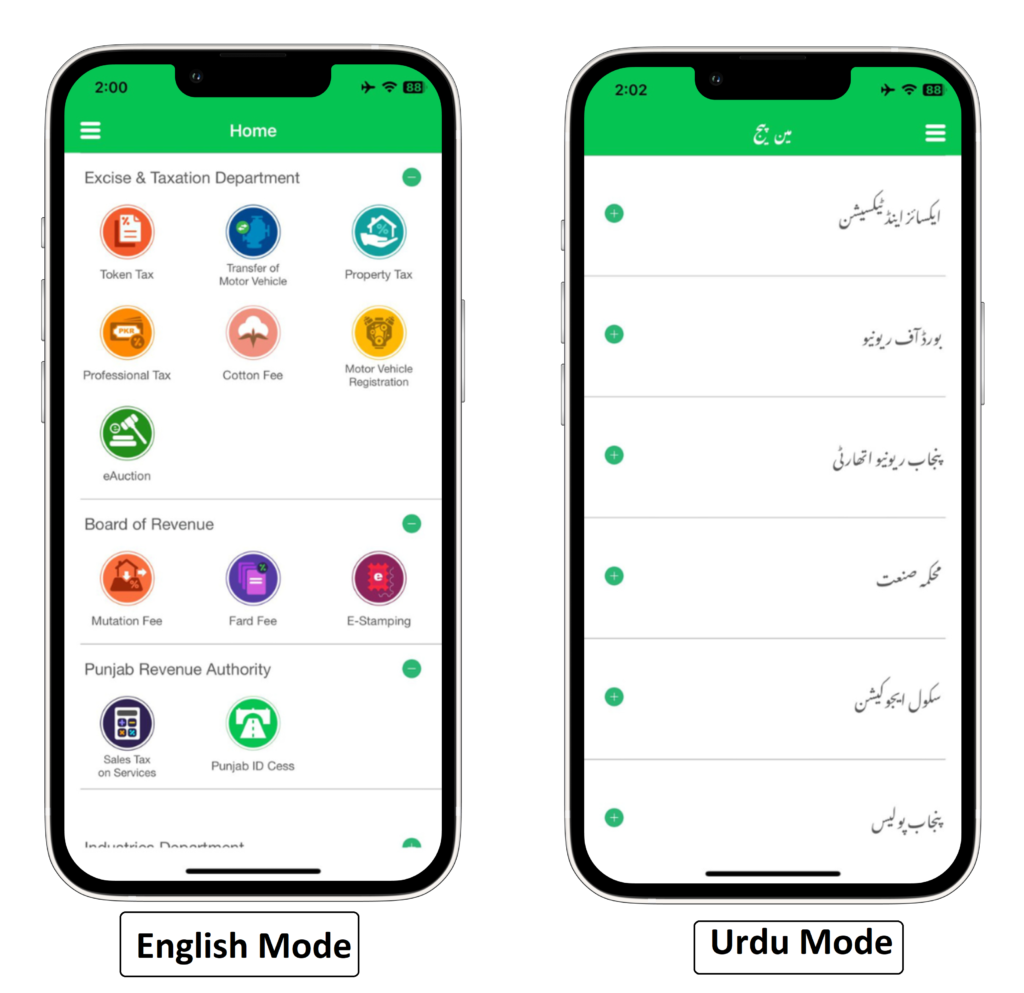 As We know, ePay Punjab App is available in both English and Urdu Language, you can select any of these languages according to your convenience. To Pay the Fees of any Government Department click on Plus Button as shown in the above image to check the services offered by that relevant department. By clicking on the Plus icon, you will be able to see all the services offered by that department. To get ant service click on the icon specified for every service, enter the basic information as per the requirements, and get that service online.
Also Read: What is the role of the Pakistan Citizen Portal App?